Another nor'easter is back in New Jersey… for the third time in the last two weeks. It is almost like the residents of New Jersey just can't catch a break. As soon as one nor'easter subsides and things begin to seem like they are calming down, another shows up, just before we can fully relax. So we know that a nor'easter is cold, windy, and snowy, but what causes it? And why does it have to be here?
What Is A Nor'easter?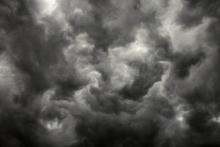 A nor'easter is a large, low-pressure zone off of the east coast of the United States where strong winds from the northeast Atlantic are pushed inland along the easternmost states like New Jersey. So why are we seeing multiple nor'easter storms in New Jersey? Well, one of the most common places for this high-pressure zone to develop is off the coast in the Atlantic somewhere between Georgia and our very own home state of New Jersey, but lucky for us, we don't get the worst of the storm.
When the cold air from Canada meets the warm air of the Atlantic, it causes quite the weather event, bringing "fun" things like heavy snow, rain, wind, rough seas, and, in some cases, coastal flooding. All of these weather events not only damage property and restrict people's access to day-to-day amenities, but they also just really seem to make the people of New Jersey mad. Mad because they have to shovel two feet of snow at 6am before driving to work. Mad because after it snows, it rains and creates even more ice. Mad because the wind has carelessly ripped grandma's decorative flag off of her front porch.  
While these extreme weather events caused by nor'easter can be playfully joked about by your favorite commercial roofing company in New Jersey, we want to communicate the severity of the nor'easter storm and urge all of our community members to stay safe!
A Nor'easter Doesn't Just Bother, It Breaks
While yes, the nor'easter storms that we have seen so far this winter in the New Jersey area are incredibly burdensome, it is important to remember how strong these storms can be. Not only do these storms make it harder for you to complete everyday activities, but they also destroy people's belongings, homes, and businesses. The recent storms are arguably best known for their incredible wind strength, knocking down trees that have been standing for hundreds of years prior. With all of the damage that these storms have caused, we thought that we would give you a little inside information from a commercial roofing company on how to watch out for your commercial roof.
Fallen Trees
As we stated above, trees have been falling all over the northeast as a result of high wind gusts. With these strong and consistent wind gusts, we wouldn't be surprised to hear that multiple commercial businesses have had roof damage as a result of fallen trees. If a tree falls on the roof of your business, be sure to take plenty of pictures, call your insurance company, and then contact us at S & S Roofing to about our roofing services.
Heavy Snow Loads
While nor'easter storms are notorious for high wind intensity, it is also equally as likely that heavy snowfall will accompany the wind that is both annoying you and damaging your property. Nor'easter snow is notoriously heavy, because the humid region creates wet and heavy snow. It doesn't help that nor'easters can also produce large amounts of snow, with over two feet falling in a recent storm alone. Large amounts of wet snow can create an extremely heavy pile of dead weight sitting on the roof of your commercial property. If you don't remove the snow quickly, or if it doesn't melt quickly enough, your commercial roof may see damages in the form of cracking, leaking, or in more serious cases, collapse. If any of these damages occur on your commercial property, be sure to contact us at S & S roofing for our re-roofing services.
How To Stay Safe
While you are most likely worried – and will continue to worry –  about the wellbeing of your commercial property, it is important that you worry about your own safety as well. In order to stay safe in these blistering cold storms, make sure that your house is plenty warm. If you do not have the ability to keep your house warm, don't be scared to reach out to friends or family for shelter. Also, be mindful of your surroundings when you are out and about, as trees and other large objects can fall at any time. They don't just target cars and commercial roofs. Once you wait out the storm, there might be repairs to be made, but at least you'll be safe.
What You Can Do To Recover From Nor'Easters
Once nor'easter season ends –  and we know that it feels like it never will –  there will doubtlessly be damages that homeowners and business owners alike will have to handle. While we hope that your roof doesn't get damaged, we are here for you if it is. We will re-roof your commercial property, metal roof installation, re-shingle your asphalt roof, and more because we want your business to get back to normal as soon as possible.
If you have any questions for us, please don't hesitate to contact us today and inquire about our commercial roofing company. Stay safe out there!